Well, I've only been back from Portland since Tuesday night. I've been trying to keep track of all the stuff I did and places I went and things I ate, and the new travel journal with collage and painting included worked pretty well. After the convention the highlight of last week was the day Mary Jo drove me out to the Oregon coast, last Friday.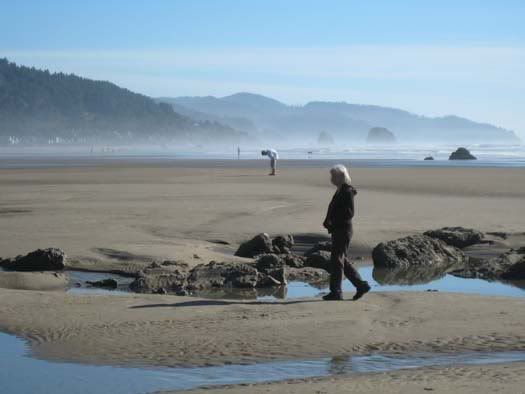 We had a brilliantly sunny warm day, which is not all that common they tell me, and went to all the seafront parks in the area, and took lots of photos. My camera ran out of battery, but she loaned me hers and later we burned a CD of about a hundred photos, all giant multimegabyte images, mostly of rocks and logs and stuff of various sizes in various arrangements. Also green sea anemones, and red and violet starfish. I had never seen tide pools like that before. The beach was wider than any I have ever seen, so the low tide exposed a huge expanse of sand. I picked up and brought home an actual rock or two as well, one of those rounded black ones.

Now that I have a digital camera, I have to learn to use the audio recording. At the first park near the parking lot there was a tiny stream rattling cheerily through the grass on its way down to the sea, and some kids playing. I took terrible zoom photos of a little black-tailed deer that went right past us on the drive and then hid its head browsing in the grass. I wanted digital smellovision too, for the scent of the ocean, and the spruce trees along the cliff. My best excuse for listening to the breakers as long as possible was to walk up and down the beach, and finally I was so tired we got a blanket out of the car and lay down for a few minutes in the sun. In the course of the day I even got a teensy sunburn on my nose. Then a low fog came in off the ocean, and the big rocks we had been walking to disappeared. Less than a quarter mile visibility, but it was still warm and sunny.